NonA Weekly: WATER SMARTER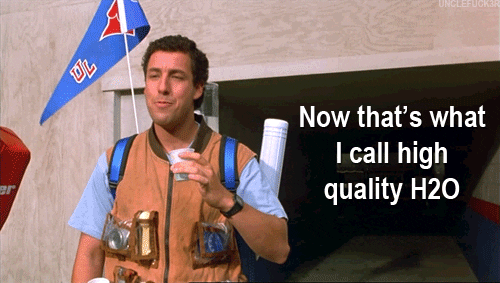 Hi there!
There is the same amount of fresh water on earth as there always has been, but the population has exploded, leaving the world's water resources in a crisis.
Around the world, a million bottles of water are sold every minute, and although they're almost entirely recyclable, most get tossed into landfills, clog up rivers, and sink to the bottom of the sea, taking anywhere from 500 to 1,000 years to degrade. Companies have had enormous commercial success selling us on the idea that water is better bottled.
This week's newsletter is dedicated to Freshwater availability and Responsible consumption.
1. WHAT IT'S LIKE TO NOT HAVE RUNNING WATER DURING A PANDEMIC
Thwarting the coronavirus means washing hands and staying hydrated. That's not easy for people who still live without PLUMBING in 2021.
2. HOW WE GOT CONNED INTO DRINKING BOTTLED WATER — AND HOW WE CAN STOP
In just a few decades, WATER went from a common resource to an incredibly popular packaged commodity with a serious environmental footprint. We've been sold on the convenience of a product we didn't need, and now we're collectively paying the costs of its unintended consequences, cleaning up its spills and patches.
3. EMERGING TRENDS IN GLOBAL FRESHWATER AVAILABILITY
Freshwater availability is changing worldwide. We share an ARTICLE that quantifies 34 trends in terrestrial water storage observed by the Gravity Recovery and Climate Experiment (GRACE) satellites during 2002–2016 and categorizes their drivers as natural interannual variability, unsustainable groundwater consumption, climate change or combinations thereof.
4. FRESHWATER CRISIS 
While the amount of fresh water on the planet has remained fairly constant over time – continually recycled through the atmosphere and back into our cups – the population has exploded. This means that every year competition for a CLEAN, copious supply of water for drinking, cooking, bathing, and sustaining life intensifies.
5. WATER FUTURES SET TO JOIN LIKES OF GOLD AND OIL AND TRADE ON WALL STREET FOR FIRST TIME EVER 
While water will officially join the likes of gold, oil, and other commodities in being TRADED on Wall Street, the contracts will be financially settled. This means buyers of the contracts who hold on through expiration won't be greeted by a delivery of millions of gallons of water like they would for other commodity-based futures like oil and grain.
6. CITIES OF THE FUTURE
By 2050 the world's population is expected to reach 9.8 billion. Nearly 70 percent of this booming population – 6.7 billion people – is projected to live in urban areas. NATION GEOGRAPHIC asked experts at the architectural and urban planning firm Skidmore, Owings & Merrill (SOM) how they would design a city of the future, educated by lessons of the past and anticipating challenges of the future.
7. 5 CLEVER ARCHITECTURAL STRATEGIES FOR CONSERVING WATER
The magazine FAST COMPANY has compiled five buildings that take an aggressive approach to conserving resources.
8. 3 THOUGHTFUL WAYS TO CONSERVE WATER 
According to the UN, nearly one in three people worldwide live in a country facing a water crisis, and less than five percent of the world lives in a country that has more water today than it did 20 years ago. Lana Mazahreh grew up in Jordan, a state that has experienced absolute water scarcity since 1973, where she learned how to conserve water as soon as she was old enough to learn how to write her name. In this practical TED TALK, she shares three lessons from water-poor countries on how to save water and address what's fast becoming a global crisis.
Stay creative and see you all next week!
Daniela