NonA Weekly: A NEW ERA OF SPACEFLIGHT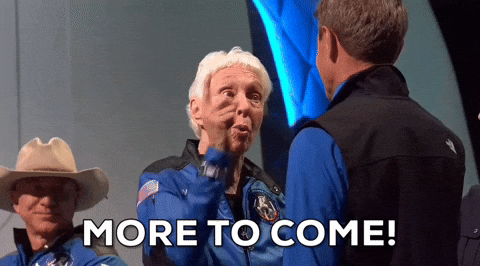 Dear readers and friends,
Welcome to space, humanity's next hot travel destination, where anyone can become a "citizen space explorer." There's currently a race to get space tourists off the planet, and spaceflight companies are offering quite a range of experiences. From the dramatic excitement of a slow ascent in a high-tech hot-air balloon to embarking upon your own moon mission, there is – or soon will be – a space tourism package just for you.
1. SPACEX LAUNCHES FOUR CIVILIANS INTO ORBIT ON HISTORIC INSPIRATION4 FLIGHT
SpaceX made HISTORY as it launched a crew of private citizens on a jaunt around Earth. For an added bonus, the rocket landed on its drone ship, marking the company's 92nd booster recovery.
2. HOW SPACE TOURISM WORKS
If you've ever dreamed of going to space and doing what only a few hundred people have done, then read on. In this ARTICLE, you'll learn about the spacecraft being designed as destinations for space tourists, and how you may one day have a chance to cruise through the solar system.
3. IN PICTURES: SPACEX'S HISTORIC ALL-TOURIST FLIGHT
A 200-foot-tall SpaceX rocket launched four people – none of whom are professional astronauts – into Earth's orbit. This MISSION, dubbed Inspiration4, was the first orbital mission in the history of spaceflight to be staffed entirely by tourists or otherwise non-astronauts. It was billed as the beginning of a new era of space travel for average people.
4. SPACEX JUST BROUGHT THE FIRST ALL-TOURIST CREW BACK FROM SPACE. HERE'S WHAT'S NEXT
Four people, all of whom just six months ago had no formal spaceflight training, strapped themselves into a SpaceX capsule atop a 200-foot-tall rocket and took a three-day spin around Earth. After splashing down off the coast of Florida, the passengers emerged from their capsule, smiling and waving, if a little unsteady after spending nearly 72 hours in weightlessness. SpaceX says it's just the BEGINNING.
5. WHY SPACE TOURISM?
The age of space tourism at long last dawns for a second time (the first dawn consisting of those orbital tourists launched by the Russians a while back). Although the virtues of space TOURISM can seem self-evident to the seasoned space advocate, they bear repetition.
6. LEGAL ASPECTS OF SPACE TOURISM
Broadly speaking, "space tourism" denotes any commercial activity that offers customers direct or indirect experience with SPACE travel. Such activities have many different designs, ranging from long-term stays in orbital facilities to short-term orbital or suborbital flights, and even parabolic flights in an aircraft exposing passengers to short periods of weightlessness.
Stay creative and see you all next week!
Daniela