NonA Weekly: LEAD THE WAY ➡️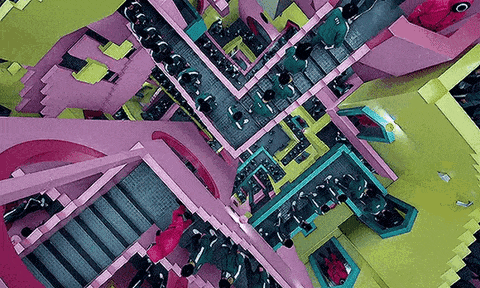 Dear readers and friends,
As architects and designers, we are always challenged to create environments that are as human-friendly 👫 as possible. We are asked to design spaces that are both human-interactive and best suit their mindset. However, can you create a space that challenges a person's senses 🧠 and causes him/her to rethink 🤔 where he/she is and what he/she is doing?
1. MODERN MAZES 😵
These immersive installations use unusual materials and disorienting configurations to encourage visitors to wander, explore, face uncertainty 🧭 about their paths and pause to marvel at the beauty of it all. 15 LABYRINTHS made of Glass, Steel, Light and Salt.
2. 17 MAGNIFICENT ✨ MAZE-LIKE STRUCTURES
From glass box labyrinths to stacked jungle gym schools, THESE maze-like structures are taking architectural design to the next level 💯 by infusing such abstract and wonderfully detailed layouts.
3. MASTER DESIGNER'S GARDEN 🌼 PLOT 6 BY MARTHA SCHWARTZ PARTNERS
This garden, filled with a MAZE of grey brick arches 🧱 interspersed with willow trees, has been completed by Martha Schwartz Partners as part of the 2011 Xi'an International Horticultural Expo that took place in China.
4. LABYRINTH CONCEPT 📜 IN ARCHITECTURE
Labyrinth image has been a part of various cultures and their architecture since the ancient eras, so the notion of the LABYRINTH is strongly connected with cultural myths and legends of that time 🏺. Mostly, it was included in religious ceremonies and rituals and is very significant in that it represented a prototype model for sacred spaces in association with the state of high consciousness.
5. A LABYRINTH OF BOOLEAN VOIDS IN GENK 
Gijs Van Vaerenbergh, an artistic 🎨 collaboration between architects Pieterjan Gijs and Arnout Van Vaerenbergh, have CREATED a labyrinthine intervention at the heart of the c-mine arts centre in Genk, Belgium. The development of this sculptural-spatial intervention has its foundations in the artists' interest in fundamental architectural typologies.
6. 8 LABYRINTHS FOR RESTLESS SOULS TO WANDER IN THEIR LIFETIMES 🌍
The labyrinth is an ancient pathway constructed 👷 for meditation and spiritual reflection. HuffPost has assembled this list of labyrinths to VISIT around the world.
7. WORLDWIDE LABYRINTH LOCATOR 📍
Launched in 2004, the World-Wide Labyrinth Locator has been designed to be an easy-to-use database of labyrinths around the world. Information about labyrinths you can visit, including their locations, pictures, and contact details, is accessible HERE, along with information about the many types of labyrinths found worldwide. 🗺️
Stay creative and see you all next week! 👋
Daniela